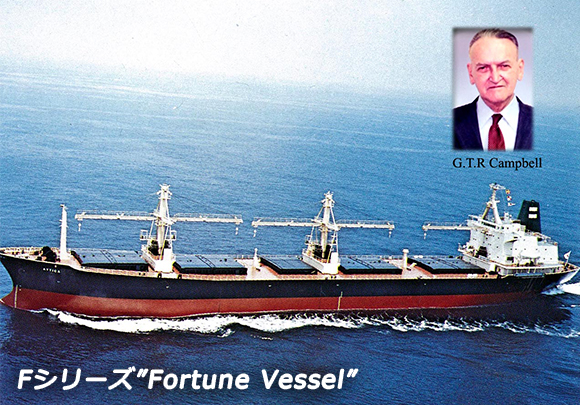 History of Ican
Ican was established in 1968 in Kyobashi, Tokyo by Thomas R. Campbell a tenacious Canadian man originally from Geordie land, Scotland, who played an active role in the Japanese ship building industry. He was instrumental in introducing the needs of foreign ship owners to Japanese ship builders. He also played an important role at that time in the development of the new "F- series" cargo ship manufactured by IHI. Campbell also envisioned the need for improvement and development of cargo loading equipment used on cargo ships. This was the motivation that lead to the establishment of Ican. T. Kasuga, currently chairman of Ican, shared this vision as a young engineer working to develop cranes for IHI. T. Kasuga joined forces with Campbell and continues to lead the management of Ican following Campbell's passing in 1993. T. Kasuga has since developed and expanded the business to include the exporting of cranes worldwide along with the further development of industrial crane brakes all the while expanding its engineering services to meet the demands of the ever changing market. Ican is a company rich with an international way of thinking. Ican is managed based upon the principles of "Faith and Trust" with an international way of thinking with a sense of balance and cooperation.

With out losing the passion to see that a job is throughly done correctly. In Icans early years, through desire and a "spirit of grit" and determination in 1969, was inspired through dealings with a small German company, that Ican could successfully expand globally even though Ican is a small company, by utilizing excellent products, services and advertising.

All of this has resulted in a successful story for a determined yet small company engaged in the development, production and sales of ship equipment and maintenance, large industrial brakes and most recently the selling of container cranes and their maintenance services as well.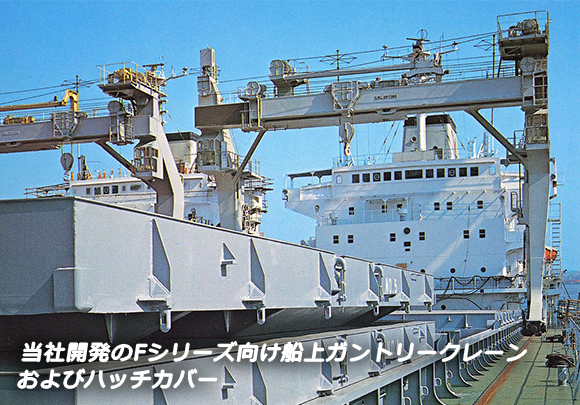 1968年

Founded in Kyobashi, Tokyo
1969年

1969 Concluded sole sales agent agreement with Lohman and Stolterfoht, a group company of Mannesmann, Germany, regarding sales of coupling, Clutch and reduction gear box for marine engine. Sumitomo Heavy Industries produced these machineries under license agreement and we undertook sales. We have sold products equivalent to 3.5 million horse power to both domestic and international ships. This transaction contributed to further improvement of our technology, as well as expansion of our transaction with major shipbuilders and heavy machinery producers. We also had the opportunity to exchange technologies with German companies to expand our line up of products.
Undertook the engineering of fittings for IHI Freedom/Fortune series ships.
We developed new type of small cargo gear and hatch cover for Fortune series ships.
1973年

1973 Developed gantry crane for ships and hatch cover for IHI Friendship/Freedom Mk2 series.
1983年

1983 Celebrated Icans 15th anniversary at Kyobashi Kaikan
Started the operation of Funabashi Works
1985年

1985 Started providing Super Stop Disc Brake
Began maintenance work for the Self Defense Force
1993年

1993 Began producing the Super Stop Disc Brake IB14 series
1996年

1996 Began the container cane supply service

Transferred cranes to Cebu harbor and Indonesia Panjang port container cranes from the Port of Nagoya. Charter the heavy lifter ship, made the loading plan, lashing strength calculation, insurance contracts, and loading. this was Icans first experience. It was carefully executed and information collected. It was positive learning experience that lead to sucess.
1997年

1997 Relocated cranes to the Bristol port, UK.

Delivered 2 container cranes and 2 transfer cranes to the Bristol port as our 3rd crane supply project. Bristol port was the 1st privatized port in UK under the privatized policy of infrastructure by prime minister Thatcher. We completed the long range transportation via the panama canal. After arrived in Bristol we conducted extensive modification to expanded the traveling rail span for the cranes. We built strong relationship with customer through this difficult and challenging transaction. Our "Faith and Trust" principle was strengthened by our experience in this project. The details of this project will be described later.
1998年

1998 Released the new Super Stop Disc Brake "IB30″ series.
2003年

2003 Released the new Runaway Stop Wheel Brake "IWB"series.
Released the new Caliper Brake "ICB" series.
2005年

2005 Commenced operations at the Shirakawa plant in, Fukushima Prefecture.
2006年

2006 Expanded brake maintenance business to Singapore.
2011年

2011 Released the new the Runaway Stop Rail Brake "IRB" series.
2014年

2014 Celebrate Icans 45 year anniversary at the Dai-ich Hotel Tokyo.
Doubled production capacity at Shirakawa Works